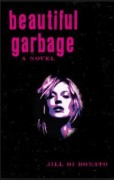 In this unflinching and perceptive début novel, Jill Di Donato describes one young sculptor's struggle to rise above the din of the 1980s art world and to discover her true voice. In the process, she finds herself confronting past wrongs—both those she committed and those committed against her.
Though Beautiful Garbage makes for a good summer read, it's not a light one—and to my mind that's only a good thing. This novel won't let you off the hook easily, intellectually or emotionally.
The novel opens in the winter of 1984, when twenty-three-year-old Jodi Plum is making regular trips to New York City from the Connecticut suburbs, where she lives with her now-single mother. Jodi's mission: to immerse herself in the city's art scene and garner interest in her figurative plaster sculptures—no easy feat at a time when abstract art rules the day. Soon, Jodi meets Monika, a fashionable scenester and photographer who takes Jodi under her wing with a mind to jumpstarting her art career. She invites Jodi to share her spacious loft and to use it as a studio at night, when Monika is mysteriously occupied elsewhere.
After Monika connects Jodi with an art dealer, Jodi's career begins to take off with sales and shows. Yet she remains haunted by past traumas: her father's abandonment of Jodi and her mother years before, and "horrible things" that Jodi did both with and against a childhood friend and fellow budding artist, Isla.
When Jodi uncovers deceptions in both her professional and private lives (she learns, for one thing, that Monika has been working as a high-class call girl), she finds herself at a crisis point, personally and artistically. In an effort to "feel complete" and "repair the void" left by past traumas, Jodi tries out the life of the call girl herself. Eventually, when she discovers that "[n]one of this was helping the little girl inside me feel better," she gives up prostitution. But not before it helps her achieve a breakthrough in her art.
I don't want to reveal the specifics of the breakthrough, but I will say that it hinges on the aesthetic power of the female body, a central concern of the novel and of Jodi's figurative art. It also underscores Jodi's belief that "People [are] bought and sold all the time"—in the art world and beyond. (In an interview that appeared on The Feminist Wire, Di Donato expanded on this point. Jodi's "final triumph," she said, "can be seen as a metaphor for what we all do to some level: sell ourselves, our bodies, our minds, our ideas for money. In a capitalist society, none of us really have any choice.").
It isn't easy to write compellingly about the creative process, but Di Donato succeeds on this score, bringing Jodi's inner struggles to life. In the most direct and unsentimental ways, the author shows us how Jodi's artistic process evolves over time, largely through her confrontation of uncomfortable truths.
Di Donato is also a keen, unromantic observer of female friendships. Through Jodi's relationships first with Isla and then with Monika, we see that affection is not necessarily the only, or even the primary, basis of any given friendship. Bonds between women, the novel suggests, can be inspirational, transactional, and even destructive, sometimes all at once.
Would My Pick be Your Pick?
If you're interested in ________, the answer may be "Yes":
• The 1980s art scene: Di Donato touches on the influences of a range of artists, from Andy Warhol to Jean-Michel Basquiat to Lynda
Benglis.
• The 1980s club scene
• Erotica
• Anything written by Mary Gaitskill